Join us for a group bike ride on Friday, June 25th from 2-5pm to celebrate the City of Colorado Springs' 150th anniversary.
This event will follow the UCCS Event Services COVID-19 Event Planning Guidelines. 

Are you a bike novice? History buff? Excited about exercising outdoors with friends?
All are welcome! We'll have group leaders to support each level of cyclist. Don't consider yourself a cyclist? No worries! We'll have a group for everyone plus a caboose to make sure no one gets left behind. 
 
This summer, due to COVID-19 impacts, we are only allowing 50 UCCS bicyclists total. Please review and complete the steps below to reserve your spot to ride with us.

Your Group Ride Check List | Know Before you Go:
RSVP by completing the tasks below.
Read the UCCS Waiver.
Send an email to kreeves2@uccs.edu with your emergency contact information along with which group you feel most confident joining:

Interested, yet Concerned
Enthused/Confident
This email serves as your electronic signature to the waiver. All three steps must be completed before Friday, June 18th at 5pm. No walk-up volunteers may participate due to COVID-19 guidelines. (If you are bringing children, you will be responsible for their safety and wellbeing. Helmets are required for children and are highly encouraged for adults. Minors without a helmet will not be allowed to ride.)
Your Group Ride Check List | Day of Group Ride
If you are not vaccinated, please adhere to UCCS policies and bring a mask or face-covering to wear during the group ride.
Helmets are required for children and are highly encouraged for adults.
Bring a water bottle
Apply sunscreen

We'll meet at the Lincoln Center (2727 N Cascade Ave.) to start and end the ride. The closest restrooms are located in Lincoln Center and will be accessible in Cragmor Hall at UCCS (this is the halfway mark).

PikeRide e-assist bikes will be available to rent for the event to give you that extra boost up the bluffs! Learn more here.

Questions? Email Kimberly Reeves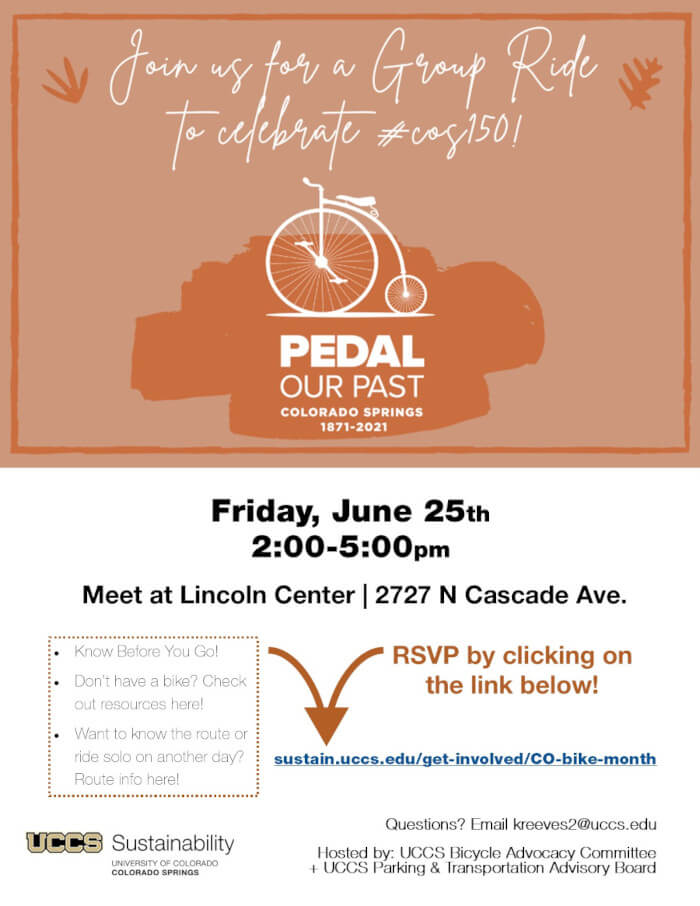 Cragmor stop 11 - Denver Highway and flood
Stop 11, west of Nevada Ave, Cascade Avenue was part of the old Denver Highway. In 1935, freak thunderstorms to the north created a raging torrent of water that wiped out most bridges across Monument Creek.

Cragmor stop 8 - Portal park
Stop 8, Portal Park, may as well be a portal to another time! Although a great place to play or swim today, one hundred years ago this was the entrance to the Curtis and Patterson coal mines.

Learn about all five neighborhood loops here!