The University strives for a zero waste campus. To achieve these goals, the Office of Sustainability supports the following initiatives to reduce our campus' carbon footprint.
Annual Reports
FY2016 - Zero Waste Annual Report
FY2015 - Zero Waste Annual Report - Inaugural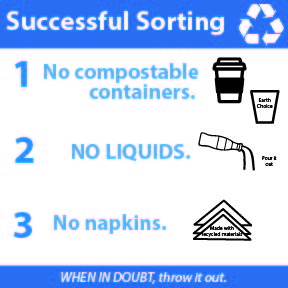 Single-Stream Recycling
In January 2009, UCCS implemented single-stream recycling, which allows all recyclable materials to be put into a single bin, thus eliminating the need to separate the waste. Single-stream recycling typically improves recycling rates by about 30%. UCCS' long term goal is 70% by the end of 2030.  We are pursuing a number of initiatives to achieve this goal, including to zero waste athletics and other events on campus. If you are interested in having your event zero wasted, please contact us or check out this helpful guide here.
NEED AN OFFICE RECYCLING BIN?
 Please contact Kimberly Reeves, Senior Sustainability Programs Manager, kreeves2@uccs.edu 
Hard to Recycle Materials
Some materials are not meant for single stream. With that in mind, use the map below to find locations to recycle
- batteries and electronics
- ink and toner cartridges
- plastic bags
- cardboard*

*Cardboard can be placed in traditional single stream, but at UCCS, we have the Cardboard Collection Program, which provides on-campus jobs for two students. It also alleviates the number of hauls by our waste contractor and the size of the dumpsters. Collecting this clean commodity separately also allows us to sell it by the bale producing a small revenue stream.
Batteries and Electronics: 

We recycle our electronics with Blue Star Recycling because they are e-Steward certified. This certification means they practice responsible recycling procedures to ensure hazardous chemicals are not put into our environment and to protect human health. With this certification, we know that Blue Star Recyclers adhere to the highest standard of environmental responsibility and work protection. 
UCCS also has a battery recycling program through Blue Star Recycling. Currently, there are black buckets around the UCCS campus to drop off all household batteries, small appliances, and cell phones. Dropoff locations: 
Toner Cartridges: 

Staff Association is working with Tonerbuyers, Cartridges-for-Kids, and FundingFactory to recycle toner ink cartridges. If you have questions, you can contact Cindy Norton at (719) 255-3212 or cnorton@uccs.edu. The links for which cartridges are acceptable can be found here: Toner Buyer, Cartridges for Kids, and FundingFactory.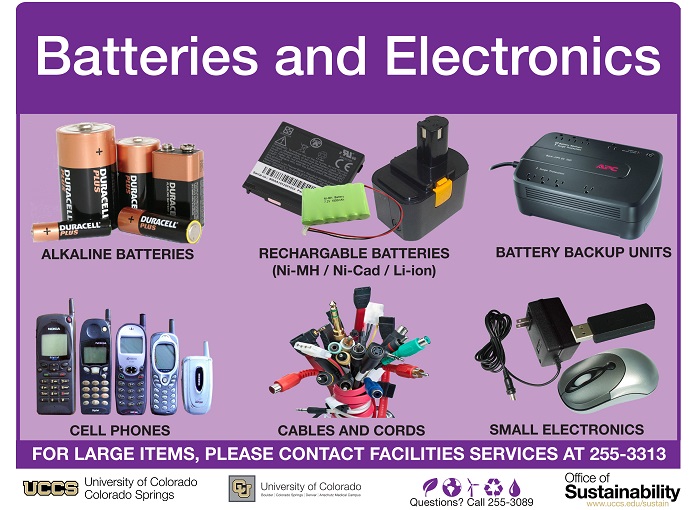 Plastic Bags:
The UCCS Bookstore and the Student Life and Leaderships office have boxes to put plastic bags and wraps in.

Cardboard:

Starting in 2014, UCCS separates cardboard into a different collection stream. This process allows us to sell the material to a local company who then sells the uncontaminated cardboard to end-users. The end-users turn the raw material into new products saving natural resources, energy and money. Help us continue to make this program successful by discarding your cardboard in collection bins located around campus.
Want to volunteer? Join our cardboard collection team to help manage this resource. Learn more on our volunteer page.