Zero Waste Efforts at UCCS
Reduce, Reuse, Recycle! While this may seem like an outdated slogan, we are focusing our efforts on the first two 'Rs', by encouraging our UCCS community to bring reusable mugs, water bottles, snack containers, and more, before considering an option that is single-use and disposable. Even though diverting materials from the landfill via composting and recycling is the best option for most things, consider the life of your item before buying it; if you have to buy it at all.

"If it can't be reduced, reused, repaired, rebuilt, refurbished, refinished, resold, composted or recycled then it should be restricted, redesigned or removed from production." - Berkeley Ecology Center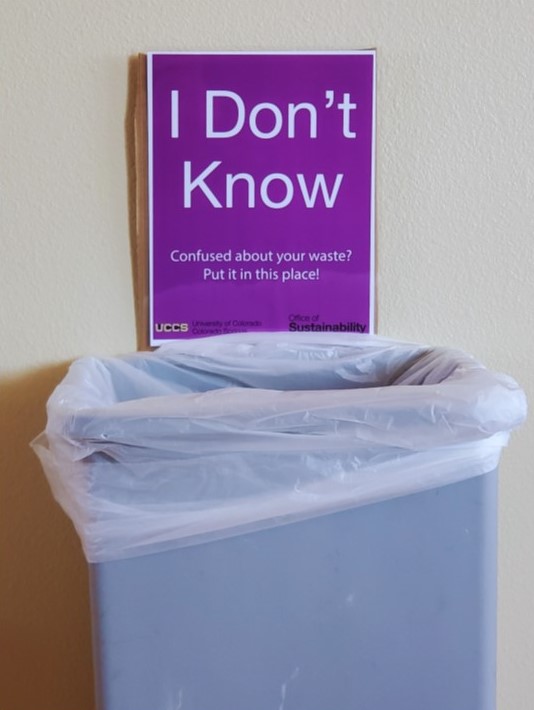 I Don't Know Bins
Thanks to a partnership with Team Green in the KFL Library we were able to revamp this campaign. A campaign idea from a 2019 AASHE Conference, these bins were placed in certain areas on the two floors of the KFL Library and were designed to see what items students didn't know what bins they go in. With this campaign we hope to show the importance of having recycling and compost in various buildings around campus.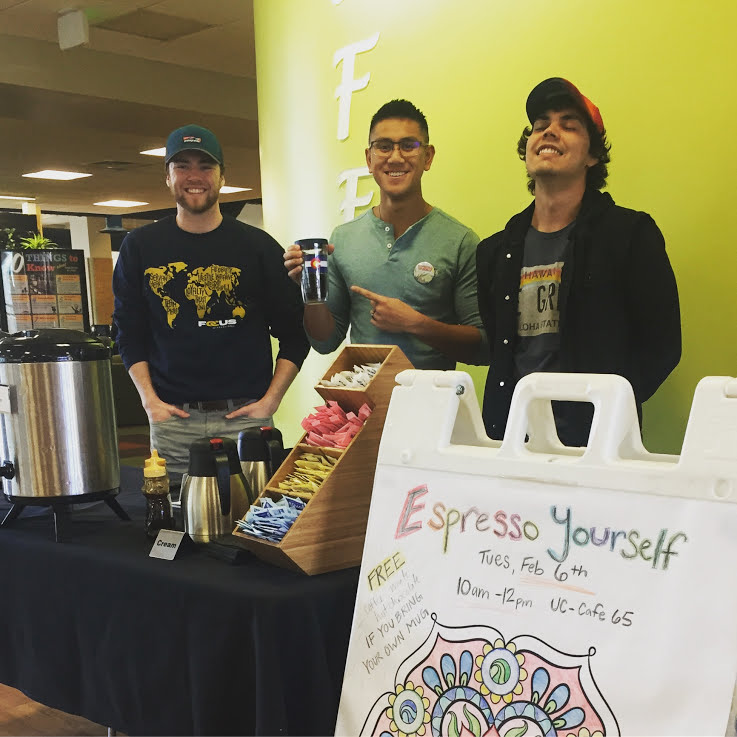 Espresso Yourself
Espresso Yourself is a campaign to encourage our UCCS community to 'express' themselves by bringing their own coffee cup to the coffee shops. Bring your own mug and receive a 10 cent discount on your beverage thanks to Dining and Hospitality Services.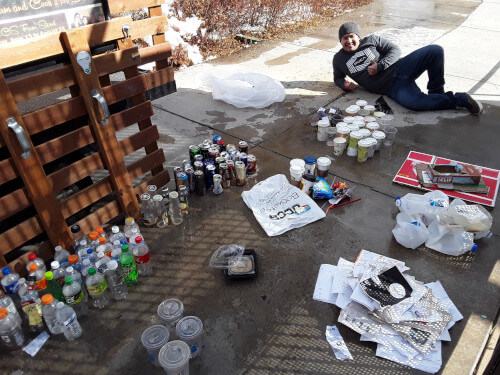 Building Waste Audits
Building waste audits tell us a lot about the habits of the occupants. It also helps us better understand what kind of educational campaigns we should focus on and what kind of infrastructure is needed. Building waste audits led us to focus our efforts on reducing coffee cups! Espresso Yourself!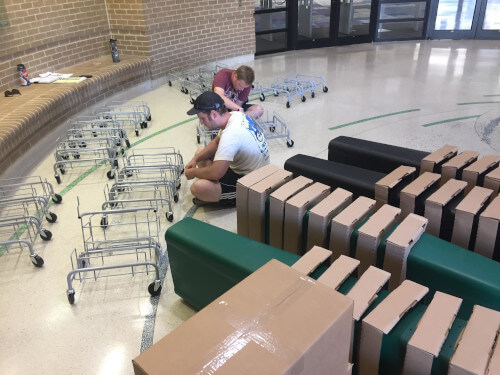 Composting Infrastructure in KFL
Thanks to a partnership with the KFL Team Green and Facilities Services, we have composting services in the library! Students managed this project by working with our Custodial staff to reduce the number of bins around the library, which reduced labor needs while also increasing our diversion rate in the building.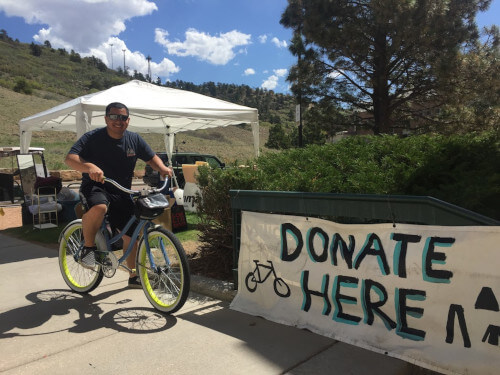 Move Out Donations
Moving out of the residence halls in May? Plan to donate your unwanted items! We partner with local organizations to accept clothes, appliances, furniture, canned goods, and more! Check the UCCS calendar for our move-out donation event dates.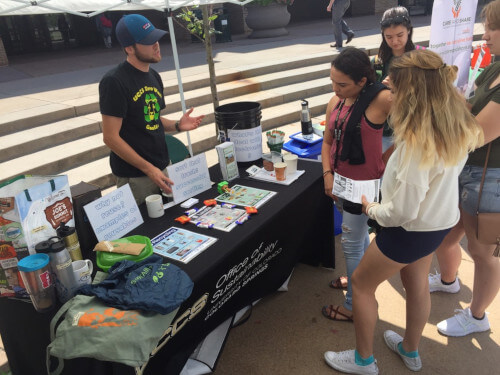 Waste Education
Help us put waste in the right place! It can be difficult to know where to throw your trash. We try to keep it simple (Is it cardboard? aluminum? glass? paper? Recycle! Is it food? Is it from our Coffee Shops or Cafe 65? Compost!) And when in doubt, throw it in the landfill. Better to landfill it then contaminate the recycling or composting.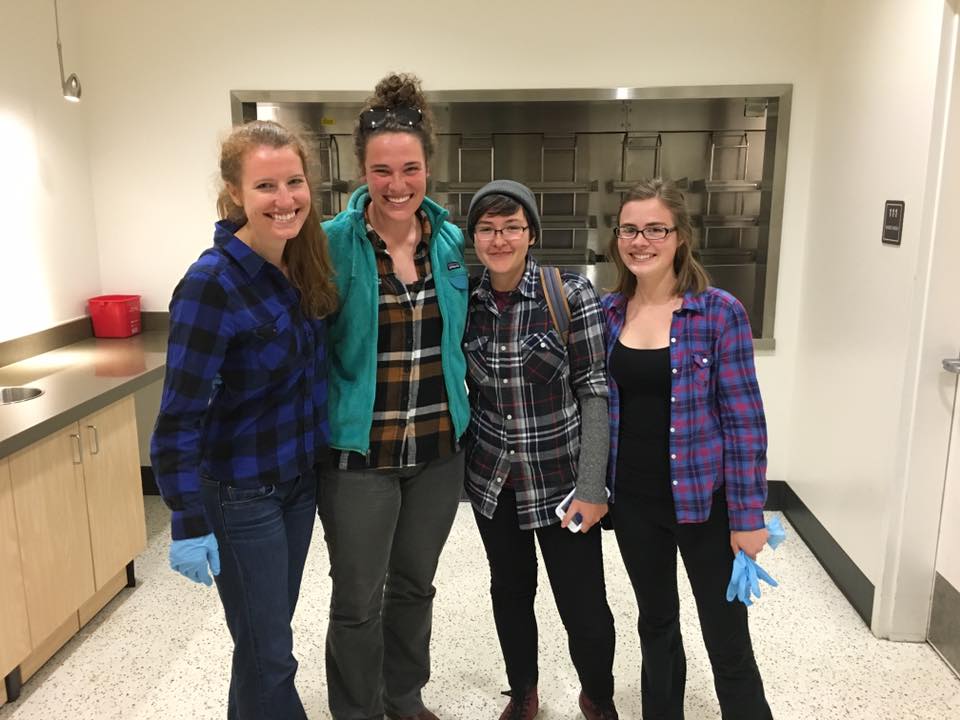 Food Waste Audits
Food waste audits in the dining halls help us better understand how to reduce food waste. On average, UCCS does a great job not wasting food! At recent audits, we saw less than 1.7 lbs. of food waste over 100 plates. These audits inform DHS what type of food could be portioned differently or encourage new ways to reduce food waste.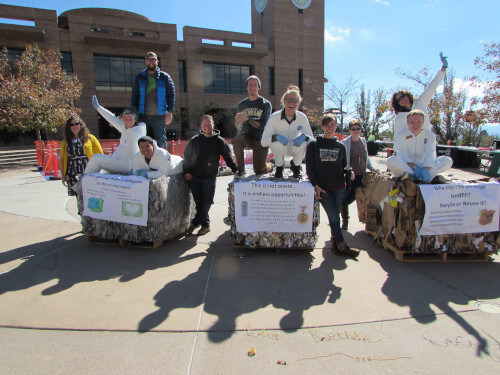 Mt. Trashmore
Mt. Trashmore is a waste audit from a day's-worth of UCCS trash! We've found that over 50% of UCCS' trash could have been diverted to composting or recycling. We also learned that coffee cups are one of the most confusing items. Instead, bring your own! But if you do get hot or cold coffee from UCCS, the cups are compostable!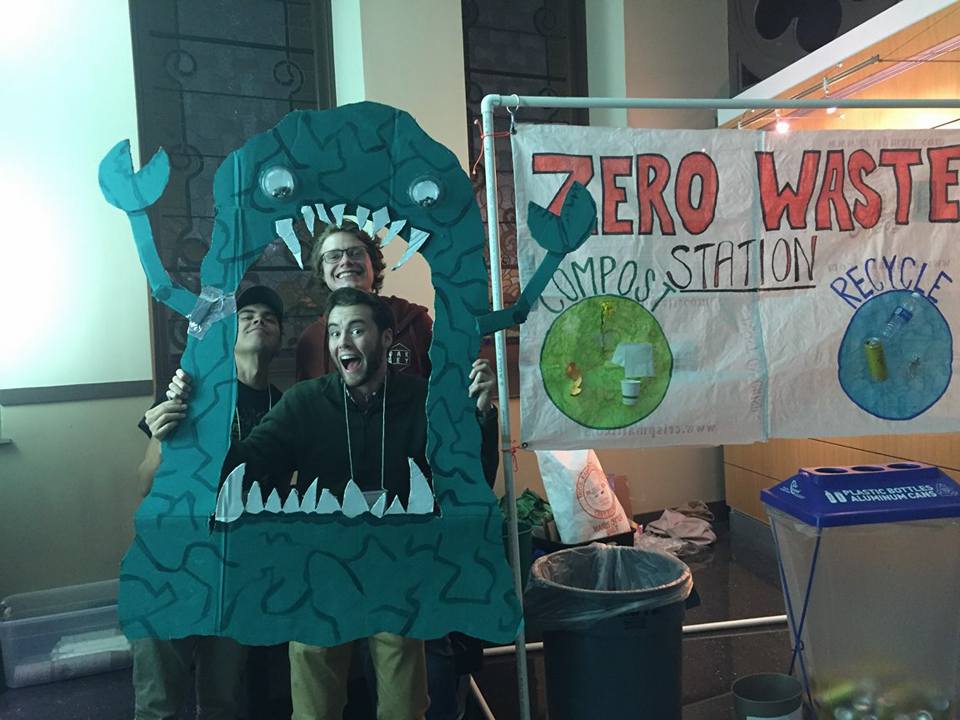 Students for Zero Waste Conference
Single-Stream Recycling
In January 2009, UCCS implemented single-stream recycling, which allows all recyclable materials to be put into a single bin, thus eliminating the need to separate the waste. Single-stream recycling typically improves recycling rates by about 30%. UCCS' long term goal is 70% by the end of 2030.  We are pursuing a number of initiatives to achieve this goal, including to zero waste athletics and other events on campus. If you are interested in having your event zero wasted, please contact us or check out this helpful guide here.
NEED AN OFFICE RECYCLING BIN?
 Please email sustain@uccs.edu 
Hard to Recycle Materials
Some materials are not meant for single stream. With that in mind, use the map below to find locations to recycle
- plastic bags
- batteries and electronics
- ink and toner cartridges
 
Plastic Bags:
Clyde's Cupboard, located in the Student Life Lounge in the University Center has a drop off location for plastic bags. These bags will be collected and given to appropriate vendors. Ask the Clyde's Cupboard front desk for more information. 
Electronics: 

We recycle our electronics with Blue Star Recycling because they are e-Steward certified. This certification means they practice responsible recycling procedures to ensure hazardous chemicals are not put into our environment and to protect human health. With this certification, we know that Blue Star Recyclers adhere to the highest standard of environmental responsibility and work protection. 


Are you a UCCS employee? Follow these instructions to recycle your laptop, desktop, or other University electronics property. 
Please click this link to submit a work request:
Click the black button to submit

On the left side panel, click the blue words 'submit a request'

Select your building where MAD will collect your laptop

Enter your information (no speedtype required). In the request, be very specific that you'd like the MAD group to collect your laptop and when/how is best to collect.

Click submit. You'll receive an email confirmation.
Toner Cartridges: 
Environmental Health & Safety (EHS) is working with Cartridges-for-Kids, and FundingFactory to recycle toner ink cartridges. If you have questions, you can contact Cindy Norton at (719) 255-3212 or cnorton@uccs.edu. The links for which cartridges are acceptable can be found here:  Cartridges for Kids and FundingFactory.
See our updated battery collection policy for Fall 2023 below: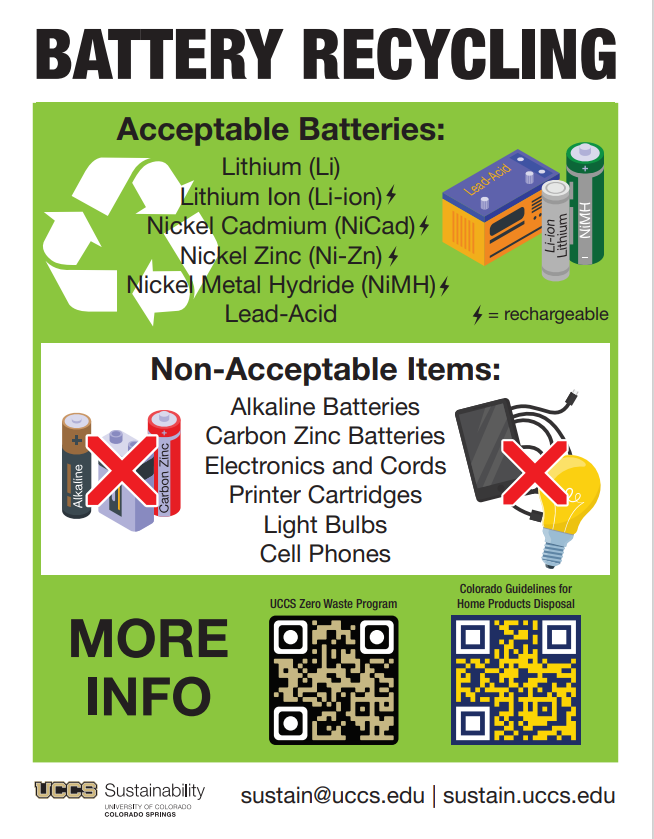 We will no longer be accepting single-use Alkaline batteries due to the financial costs and lack of capacity to recycle them. Before Fall of 2023, the Office of Sustainability had a contract with Blue Star Recycling, a local company that operated out of Colorado Springs which accepted our alkaline batteries. Due to them consolidating locations, their only available drop off location is in Denver. This has increased costs for battery recycling quite substantially. This change has made the recycling of bulk shipments of Alkaline batteries more difficult and impactful on the environment. We will continue to collect certain recyclable batteries and will be delivering them to E-Tech Recyclers, a local company that takes rechargeable batteries with exceptionally low prices for battery drop-offs.  
See our map above to find available battery drop off locations. Black buckets can be found around campus to drop off the appropriate batteries. These batteries will be collected, sorted, and distributed to the appropriate vendors on a regular basis. Pickups will be conducted before the end of November. 
If you are unsure if you can recycle your battery please contact sustain@uccs.edu for information. 

For more information on  battery recycling, please view our FAQ below or visit these websites: 
https://etechrecyclers.com/ 
https://www.call2recycle.org/what-can-i-recycle/
https://cdphe.colorado.gov/hm/prep-home-products-disposal