---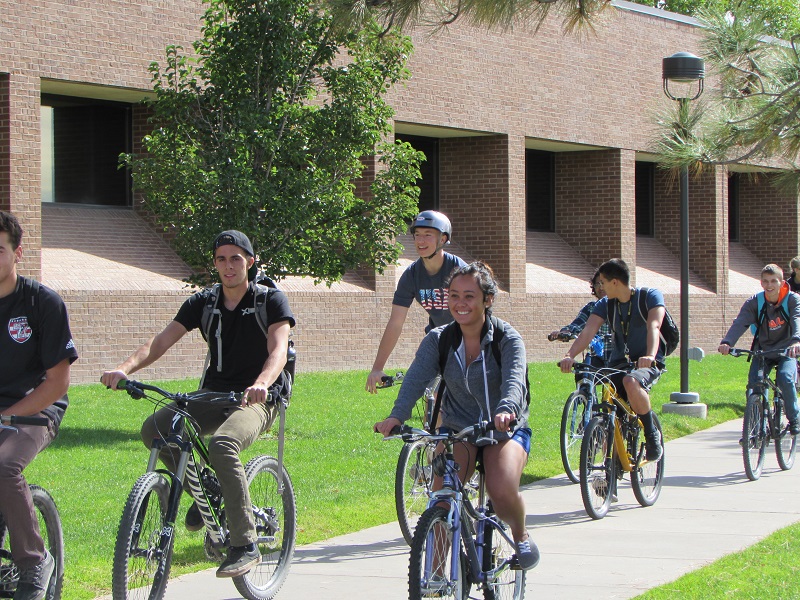 Situated on a hill, with limited bus service and a large commuter population that works off campus, UCCS is challenged to change commuter habits to reduce its carbon footprint. The latest transportation survey shows that over 85% of students, faculty and staff drive to campus. However as one of the fastest growing campuses in the country, we have opportunities to carefully plan our transportation infrastructure to reduce vehicle use and encourage safe pedestrian and bicycle use. Potential benefits of sustainable transportation strategies include reduced parking infrastructure costs, greater connectivity with the Colorado Springs community, and a healthier student body and staff.
 
Strategic Planning and Education
In 2007, UCCS hosted a Transportation Demand Management (TDM) workshop with Spenser Havlick, co-author of the book, Transportation and Sustainable Campus Communities. The TDM workshop, which included members of the Colorado Springs planning community, resulted in the creation of a Sustainable Transportation Intern position in the Department of Public Safety to provide alternative transportation education and coordinate programs to encourage multi-modal transportation.
Multi-Modal Transportation
Buses/Shuttles: Three city bus routes (#9, #34, #39) provide the campus with limited local and regional connectivity.  Find more campus shuttle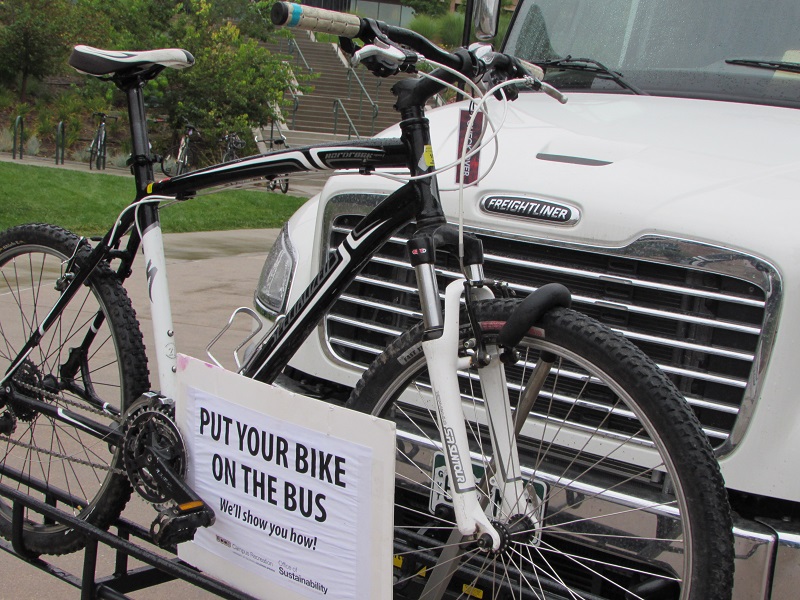 information here, including schedules and locations.
Bicycles: In Fall 2014, UCCS Campus Recreation received a 'Walk and Wheel Colorado: Increasing Walking & Biking in Colorado Through Employer Action' grant funded by Kaiser Permanente. Many events for the semester have been to encourage UCCS students, faculty, and staff to commute to campus.
City buses and campus shuttles have bike transport racks and there are bicycle racks throughout the campus. Bike lockers at the Recreation Center, University Center, and University Hall  are available for rent to provide higher security and weather protection. The Bike Shop in the Recreation Center offers minor repairs and cycling workshops. There are two bike repair stations located by the west entrance of University Center and by the bike racks situated in front of Columbine. Bike racks are available at all major campus buildings and showers/changing rooms are available at several campus locations. Bike locks are available to borrow at the Kraemer Family Library at the Reference Desk. Download a campus bike map here.
Carpooling: Options are offered on the City of Colorado Springs web site through a city-run carpool database. Campus parking permits can be shared. Charter services can organize student groups in vans or buses rather than single occupancy vehicles. A parking spot designated only for hybrid vehicles is planned to be located behind the new Conference and Events Center.
 
Alternative Work Site
Our Alternative Work Site (AWS) Pilot Program was developed to reduce trips to campus. Select classified staff work four ten-hour days and salaried employees work one day at home each week. In addition to reduced emissions, expected benefits of the program are reduced commuting costs for employees, higher productivity, expanded service hours, and an increase in employee satisfaction. If successful, UCCS will expand the program for the entire university.
 
Fleet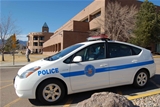 Currently, the campus fleet includes electric, propane, hybrid, bio-diesel, and flex fuel vehicles. Five of the campus shuttle vehicles run on bio-diesel. The Department of Public Safety recently purchased 2 Toyota Prius hybrids for patrol cars. Some of these vehicles, including a hybrid, are available for off-campus university business - find leasing information here.