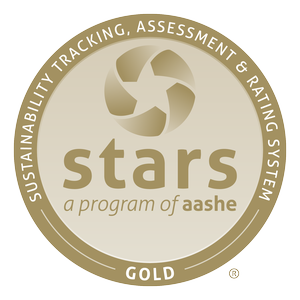 The University of Colorado Colorado Springs was a charter participant in the Sustainability Tracking, Assessment and Rating System (STARS) developed by the Association for the Advancement of Sustainability in Higher Education (AASHE).  STARS is designed to provide meaningful comparisons of sustainability over time and across institutions using a common set of measurements, create incentives for continual improvement toward sustainability, and build a stronger, more diverse campus sustainability community. 

It is the most comprehensive tool to measure the many dimensions of sustainability in higher education and already there are over 125 universities and colleges across the country participating in the program.     

"UCCS is committed to sustainability and STARS is the best tool available to assess our sustainability efforts", said Chancellor Emerita Pam Shockley-Zalabak, "STARS is essential in helping us to establish our sustainability goals and developing the plans to achieve them."
STARS is a voluntary, self-reporting program; however, there are processes in place to ensure that the submitted information is accurate.  Our completed STARS submittal for a rating will be accompanied by a letter from the chancellor that affirms the accuracy of the information.  As well, each STARS credit requires an attestation from a responsible party, usually a director or equivalent position within a department, affirming the accuracy of the information.  All of this information will be available to the public on the AASHE STARS web site. 
When all of the information is compiled and submitted, UCCS will be awarded a STARS Rating: Bronze, Silver, Gold, or Platinum. 
You can view the university STARS report here. More information on the STARS program can be found at http://stars.aashe.org/.  As a member of AASHE STARS, each UCCS faculty, staff and student has the opportunity to create a profile and utilize the database of case studies. If you have any questions about the program and or need more information regarding UCCS' participation, please contact  the Office of Sustainability at 719.255.3089 or sustain@uccs.edu.
STARS Comparative Analysis 2018-2021