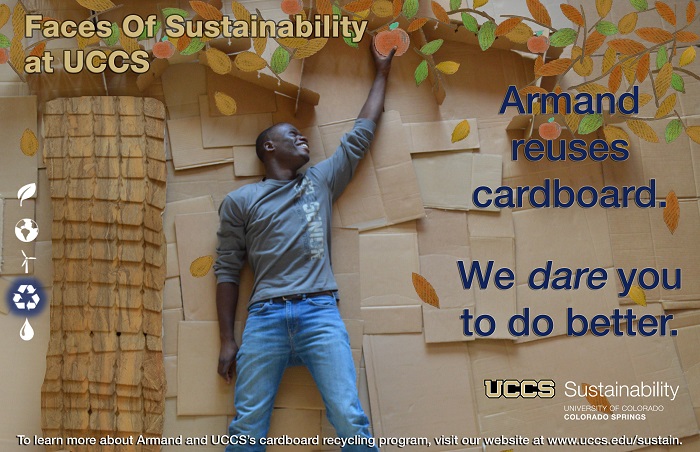 Meet Armand Moussaouyi

Armand is a UCCS sophomore studying Computer Engineering. Born and raised in Pointe Noire, Congo, Armand moved to the United States in January 2011 where he graduated high school in May 2014 from Rampart High. He speaks five different languages, including French, enjoys swimming, soccer, and meeting new people. Armand is passionate about helping others in the community, which is a main reason why he volunteered at Memorial Hospital for over two years. He has held a lifeguard position at the Garden of the Gods Club and Resort during summer of 2014. In his spare time, Armand volunteers as a photographer for The Congolese American Community (TCAC,) a non-profit organization and plays intramural soccer. Armand understands that being part of sustainability at UCCS helps him see the environment from a different perspective. His future aspirations include attaining a master's degree in software engineering and minoring in French.

1.    What sustainable practices do you partake in on a daily basis?

I try to recycle as much as I can on a daily basis. Since last year, I have reduced my energy consumption by removing two ceiling light bulbs from my room and one light bulb from my bathroom. I turn off the faucet when brushing my teeth and take shorter showers in order to conserve water.   

2.    What is UCCS' policy on the cardboard waste it generates? Why don't we put it in the single stream with the rest of the recycling?

Our goal concerning cardboard is to bale as much as we can in a week to prevent cardboard from going to landfill or being put into the recycling containers. Cardboard takes up a lot of room in the recycling dumpsters. If we were to continue placing cardboard in those dumpsters instead of in the separate cardboard collecting bins we would have to increase the amount of pickups from Waste Management. The cardboard recycling initiative goal is to save money and make profit while still recycling. Recycling cardboard separately is the best way to go because it saves money and creates two student job positions on campus.   

3.    What happens to cardboard when it is recycled anyways?

The cardboard we collect on campus is recycled through BioPappel and turned back into usable cardboard.  

Editor's note: Over 90% of all products shipped in the US are shipped in corrugated boxes, which totals more than 400 billion square feet of cardboard. Using recycled cardboard makes an impact.