Meet Ryan, Zach and Colby.
Meet Ryan, Zach and Colby.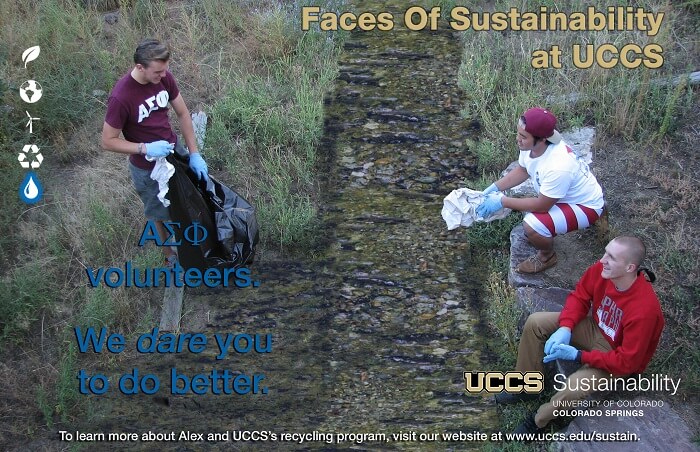 Meet the guys from Alpha Sigma Phi - Ryan Dang, Zach Jensen, and Colby Rasplicka.

Alpha Sigma Phi fraternity's goal is to better the man. Through their core values of Honor, Silence, Purity, Charity, and Patriotism, the fraternity is always striving to better themselves as well as others. They believe that reaching out to the community in which they live is a very important way to give back and help those in need of help. By partnering with organizations like The Humane Society, The Rape, Abuse & Incest National Network, Home for Our Troops, as well as other organizations whose goals align with theirs, they continually succeed in their goal of bettering their community and themselves.

1. What drives you to volunteer?
Ryan Dang: I volunteer to better our community for those less fortunate and those that are not able to help themselves.

Zach Jensen: Donating my time with nothing in return makes me feel like I'm doing my part in giving back to the community.

Colby Rasplicka: I volunteer in order to help better my community so that future generations have the ability to enjoy the earth just as we did.

2. Tell us about your fraternity, Alpha Sigma Phi, and why you chose to volunteer for Clean the Stream.      
Ryan Dang: To many of the Brothers, the outdoors is like a second home to us, so that is one reason why we have decided to partner with The Office of Sustainability to help create less of a carbon footprint in this world.

Zach Jensen: Our organization operates in one of the most beautiful and outdoorsy places in the country. The majority of our events are outside to give us the opportunity to enjoy nature. It makes sense to help maintain the environment, so we as well as others, can keep enjoying it.

Colby Rasplicka: Our fraternity is relatively new to UCCS, but we started the organization in order to make a difference in our community. When we heard about Clean the Stream, we jumped on the opportunity because we wanted to partner with the school for a community service event.

3. What do you know about the waterways near UCCS?           
Ryan Dang: I helped clean the stream by UCCS last spring, and it was disgusting. I found a bike, multiple tires, and a lot of other trash.

Zach Jensen: I have helped with Clean the Stream the past two years, and I have witnessed how irresponsible people can be. I've seen how dirty the waterways are, and I believe they need as much help as they can get.

Colby Rasplicka: The waterways are filled with trash, and every day it continues to build up.