8th Annual Bike Jam - Bike to School Day
Thu, 09/01/2016
07:03 AM - 01:00 PM
Thursday, September 1, 2016 at 7:30am to 1:00am 
El Pomar Plaza 1420 Austin Bluffs Parkway, Colorado Springs, CO 80918
Bike Jam is an annual UCCS event that encourages alternate methods of transportation, specifically bicycles, for the purpose of living healthier and sustainable lives! Bike Jam kicks-off our UCCS Bike Month Challenge, in which faculty, staff, and students can participate to win great prizes by riding for recreation or by commuting to and from UCCS
 
RSVP HERE for Bike Jam Breakfast, Lunch, and to Find a Meet-up Closest to You
BIKE WITH FRIENDS AND NEIGHBORS! NEW THIS YEAR!
Use this map below to find the closest meet-up location to you. There will be a designated UCCS leader to meet and guide the group to the event. If you are interested in becoming a leader, please contact Kimberly Reeves kreeves2@uccs.edu or x3089.
Bike to School Day Checklist
1. Fill out RSVP for breakfast and lunch
2. Choose meet-up location and write down departure time
3. Invite your friends! Biking to campus becomes more fun with more people!
4. If you haven't ridden the route, check out the route virtually on the map and try to either drive or ride it once to become more comfortable.
5. See you Thurs, Sept. 1st for a bike celebration!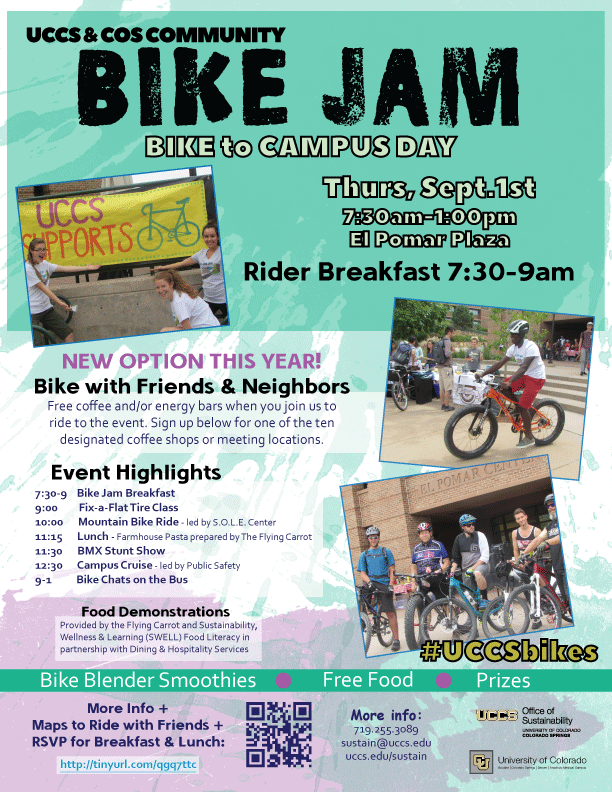 Thanks to all our sponsors and partners in making this event a success!
UCCS:



Recreation and Wellness Center
Kraemer Family Library
Bicycle Advisory Committee


Community Partners: