Winona LaDuke Engages UCCS

SUSTAINNOVATION: Climate Change
Symposium - Student Summit

The 3rd Annual SUSTAINNOVATION event was a way to connect with on- and off-campus research, organizations, and initiatives that further sustainability in Colorado Springs. The focus this year was climate change. The all-day event on Friday, April 10th included speakers: James White, Ph.D. of CU Boulder and Jennifer Cross, Ph.D. of Colorado State University along with faculty, staff, and student panels who spoke on their work to reduce UCCS' carbon footprint.   This year, Green Action Fund provided the opportunity for SUSTAINNOVATION to include a student summit.
On Thursday, April 9th, SUSTAINNOVATION was student focused with a student summit and kickoff event featuring Winona LaDuke who is an internationally acclaimed author, orator and activist working on sustainable development, climate change and environmental justice. From 5:30-6:30pm, Winona spoke to a crowd of 65+ students about varying topics that students submitted for discussion, which included the divestment from fossil fuels campaign, native practices of growing food, seed sovereignty, and building a sense of place. Winona was very personable and spoke with the students asking questions about their local initiatives and what interested them. Students seemed very receptive of the conversation and enjoyed listening to her recommendations based on her own experiences.   After the small student-led discussion, food was provided by GAF and SEAS, which allowed for more discussion to continue with many students. This also provided a small buffer between the student summit and the community presentation. Most students ate and then made their way to Berger Hall to hear Winona speak on the topic of 'Indigenous Thinking in a Time of Climate Change.'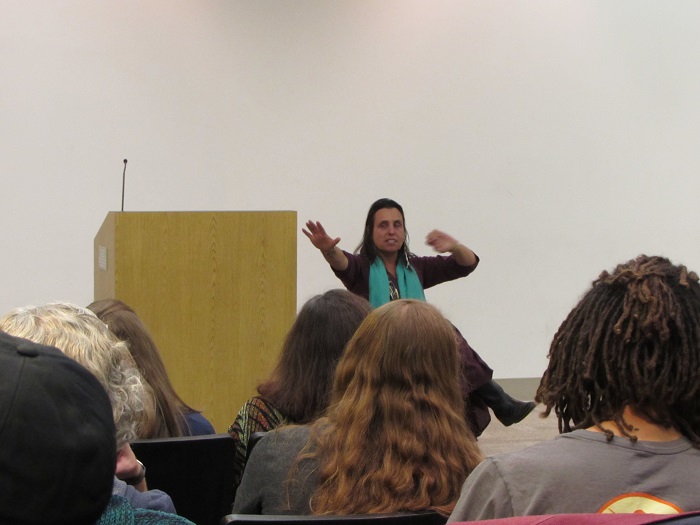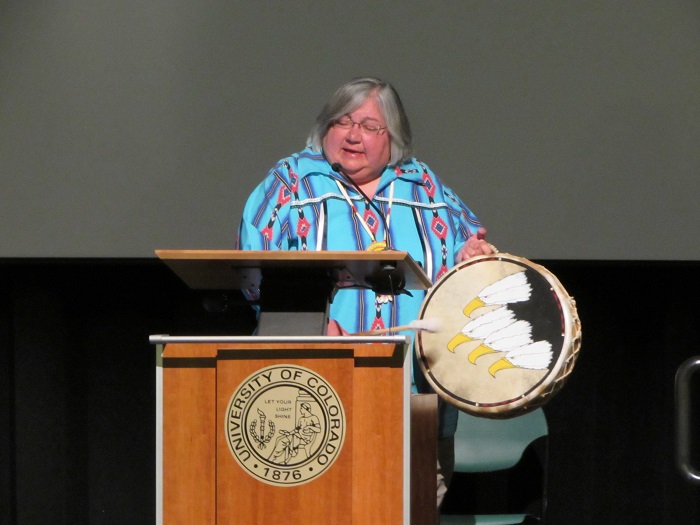 The community presentation was initiated by a poem read by one of UCCS' faculty members and Poet Laureate Janice Gould along with a traditional song sung by a Mohawk community member, Sebrena Forrest. Winona LaDuke then spoke on the challenges within her community, specifically the fight against the proposed pipeline, creating a more environmentally just culture, and the footwork she puts in to represent those without a voice. She empowered the Colorado Springs community to engage in topics that influence our region with the understanding that each person can make a difference.   The ability to bring this significant speaker to engage our students and campus community was supported by Compass Curriculum, Office of Student Activities, Students for Environmental Awareness and Sustainability, The Matrix Center for the Advancement of Social Equity and Inclusion, the Women's and Ethnic Studies department, the Office of Sustainability, and the Green Action Fund.