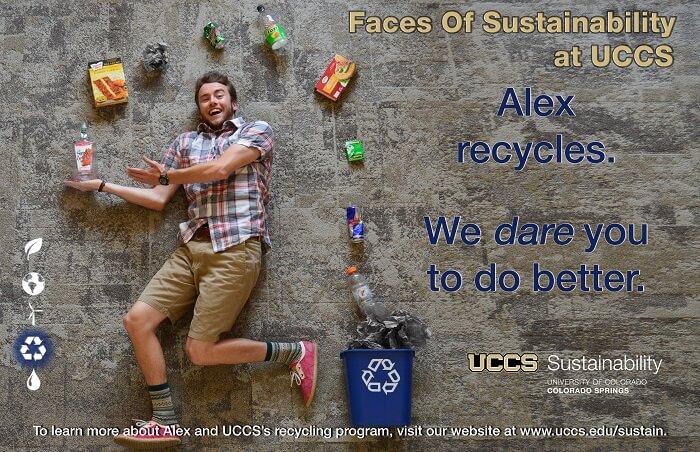 Meet Alex Greanias

Alex is a sophomore pursuing a BI in Game Design and Development and a minor in Computer Science. He is currently a member of the UCCS Honors Program and Alpha Lambda Delta National Honor Society, as well as Christian Challenge campus ministry. He has been a part of UCCS's Office of Sustainability as a Recycle Assistant since the beginning of 2015. Not only does he pride himself in his contribution to the campus' sustainability goals but extends his interest in recycling into his personal life.

1. What do you do in your personal life that holds true to the motto, "Reduce, Reuse, and Recycle?" 
Whatever I can! Carpooling and buying used items when possible are great ways to help reduce carbon emissions and waste. I reuse my own water bottle to refill at our hydration stations on campus, and recycle old appliances and electronics instead of trashing them when I can. Every little bit makes a difference! 

2. How did this mentality help you when you were living on campus?            
Getting into sustainable habits helped my dorm set up labeled trash and recycling bins in order to make sure all of our disposables ended up in the right place. This mentality also helped during move-out in the spring. When the Goodwill trucks arrived, my friends and I were able to donate tons of our old clothes and appliances that we didn't need anymore. One man's trash is another man's treasure!

3. What do you know about the background of your picture?            
I know that's no ordinary rug! Made out of discarded fishing nets from the Philippines, that very carpet donated to our office by Interface has helped protect the Danajon Double Barrier Reef from trash and contamination. And the best part - the proceeds go back to communities that need help with disaster relief. What a cool carpet!